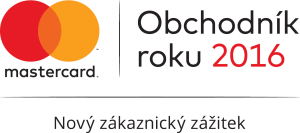 La Formaggeria Gran Moravia won with 65% of the votes the Mastercard Obchodni roka 2016, the most important retail industry award in Czech Republic in the retail industry. The chain of chain stores was awarded during the Retail Summit 2017 with the vote of a jury of 500 experts, after a passionate live presentation of the three finalists during the Retail Summit 2017 . Lidl  came in second with 19% and Globus  took third place with 16%. In the previous editions the prize was won by Ikea and Lidl.
This prestigious award is given at the 14th Mastercard competition on January 31st, 2017 as part of the Retail Forum 2017. This year the retail chain La Formaggeria Gran Moravia won the prize in the category "Merchant of the year 2016 – New experience of purchase".
Good Italian food, reasonable prices, knowledgeable staff and satisfied customers: that is the simple formula for the success of the stores La Formaggeria Gran Moravia. The shops are characterized by minimalist, bright and sophisticated décor. They are designed to give maximum emphasis to the products and make the shopping experience easy, enjoyable, and unique at the same time. Each of the 19 stores designed by the Reggiano architect Domenico Rocca, were stormed by a large and diverse audience from the first day of the opening. As said by Roberto Brazzale, creator of the project and president of Brazzale group:
"We are making customers happy: during their shopping experience we make them discover the wonders of our gastronomic tradition, but without the brake of exaggerated price. We are demonstrating that Italians can make good things everywhere and that quality does not necessarily have to be the privilege of a few, and we are also demonstrating that a healthy diet is possible and can be affordable. Our consumer mirrors the Czech people: educated, attentive and curious."
The goal of the shops "La Formaggeria Gran Moravia" is precise: to offer reasonably priced high quality products sourced directly from the producers from both the dairy Gran Moravia  in Czech Republic and from Italy.
Photo Source: Blue events, Ogilvy, аrchiv of Brazzale Moravia.